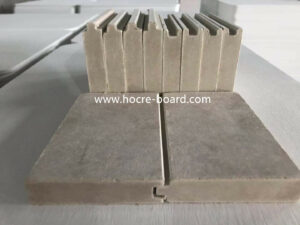 A1 non-combustible fire-rated tongue and groove fiber cement flooring board with high sound, thermal, and moisture-resisting properties.
Hocreboard Floor is an A1 fire-rated, non-combustible fiber cement flooring board. Hocreboard Floor combines moisture and fire resistance properties with high impact strength and sound insulation.
It is primarily used as a durable flooring board and is supplied with a factory-engineered tongue and grooved edge profiles to form a strong and seamless joint. It also has excellent load-bearing capabilities.
HocreboardFloor is suitable for all building types including; residential, commercial, and industrial buildings, as well as, schools and hospitals. It is especially suited to projects where quick construction, safety, cleanliness, and hygiene are of high importance and is also ideal for use in areas of high humidity, like swimming pools, spas and wet rooms.