"Hocreboard" Fiber Cement Sandwich Board Introduction:
Using special manufacturing process with raw material like natural quartz, polystyrene particles, lightweight portland cement and many other additives, HBD®Sandwich Board is covered with Medium Density Fiber Reinforced Calcium Silicate Board(Fiber Cement Board) as its surface so that the great properties of high bending strength and high hanging force can be guaranteed.
What is more, its light weight and easy installation make it superior to the traditional bricks and hollow blocks.
-Light weight
-Hanging Strength can be up to 1000N
-Easy and convenient construction
-Termite resistance
-Lower the Labor cost and time when it is compared to the traditional bricks and hollow blocks
Raw Materials: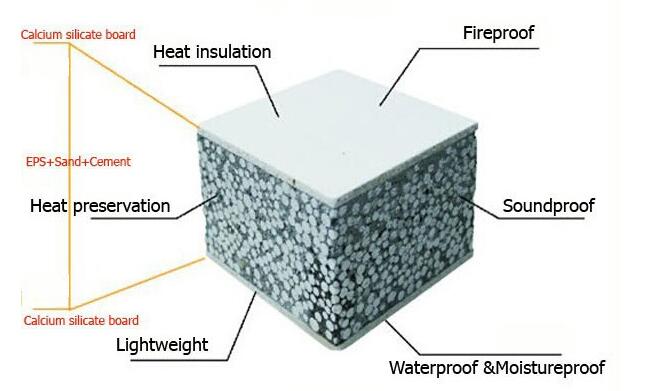 Fiber Cement Sandwich Board Technical Data:
Standard
Thickness
Length
Width
Reference weight
Tolerance
50 Series
50mm
2440mm
610mm
40kg/m2
Length:±5mm

Width:±2mm

Thickness:±1mm

Flatness: ±2mm
Weight:±5kg/㎡

75 Series
75mm
2440mm

3000mm

60kg/m2
100 Series
100mm
78kg/m2
125 Series
125mm
90kg/m2
150 Series
150mm
2440mm
105kg/m2
Item
Unit
150mm
125mm
100mm
75mm
50mm
Dry Shrinkage
mm/m
0.35
0.35
0.36
0.35
0.36
Sound Insulation
dB
≧52
≧50
≧46
≧43
/
Anti-impact
Times of no
through cracking
10
10
10
10
5
Fiber Cement Sandwich Board Application:
Internal Wall and External Wall for Commercial Building, Office Building, Shopping Center, Business Center and Hotel, etc.
Fiber Cement Sandwich Board Features:
Heat Preservation:Major material is antifreezing,heat preserving and environmental friendly.
Heat Insulation:Adjust the indoor temperature at a constant range.
FireProof:4.5mm calcium silicateboard is fireproof,Eps & Cement sandwich panel can be against a high temperature for 4 hours.
WaterProof: Experiment has proved that water pool can be made byEps and Cement sandwich panel without absorbing any water and no leakage at all after one year.
Sound Insulation: The inside of wall panel material (EPS polystyrene grain) has fine sound insulation and sound absorbing function.
Easy to Install: Using our installation material (PU foam and Cement Adhesive) is easy to build house.
Labor Cost Saving:As wall panel is easy and fast to construct,the labors can be cut down in the same work & time.
High Intension: Eps & Cement sandwich wall panel can be nailed directly or hang heavies,it can be decorated by ceramic tile,wall paper and any decorations you like. 

Earthquake Resistance:The quakeproof performance of Eps & Cement sandwich wall panel is more than 8.5.
Space and cost Saving:50to 200mm,which is more thinner than the traditional block,so it can save a lot of construction space,meanwhile,the constructure cost can also be saved instead of using the thick traditional blocks.
******************************************************************************************************************************
Related Products: